Laundry bin hi
Your product

This is the product that you have selected.
Choose the duration

Choose from a subscription for 6+ months, 3+ years or 5+ years. After the minimum duration, the subscription is automatically renewed for an indefinite period. You can then cancel with one month cancellation period.
Monthly fee

Fixed monthly price: you pay a fixed amount per month. You can make unlimited use of the product.

Pay-Per-Use: You have a monthly credit of €15.99, which you pay in advance. After this is paid, it is deposited into your Homie wallet, so you can use it to pay for your laundry. The washes turned are deducted from your credit. The colder and shorter the wash, the lower the price! With this subscription, you can do around 15 washes at cotton 40°c. The more energy the wash programme consumes, the more credits you use.
Extra's

These extra's regard a one-time purchase.
About the product
Style, convenience and sustainability come together with this Brabantia 2x45L BO laundry box. The elegant laundry basket is a cabinet-like eye-catcher and can be placed tightly against the wall. With the quick-drop opening you don't have to open the lid and the laundry bag is both removable and machine washable. The laundry box is planet-friendly and cradle-to-cradle certified, which means that all materials used can be reused. The laundry box is always delivered with a new laundry bag.*
Stylish and sleek cabinet-like laundry bin
Sort your laundry when putting it in the bin - two compartments.
Hygienic machine washable laundry bag (at 40°C)
Removable and portable laundry bag with closure
*This product can only be ordered in combination with another appliance.
Specifications
| | |
| --- | --- |
| Capacity | 2 x 45L |
| Dimensions (HxWxD) | 31.2 x 54 x 68 cm |
Your Homie
Per month

This is what you pay monthly.
Pay once

This is what you pay one-time for connection and/or products.
Related products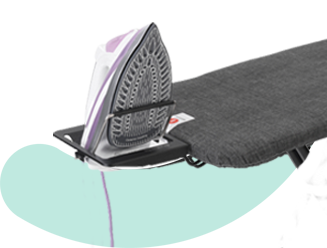 Living
Set iron and ironing board
€4.49 per month
Unlimited use
Iron with ironing board
Heats up in max. 35 sec.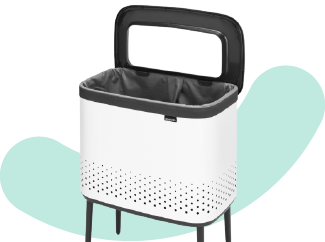 Living
Laundry bin
€4.49 per month
Unlimited use
60L capacity
Recycled material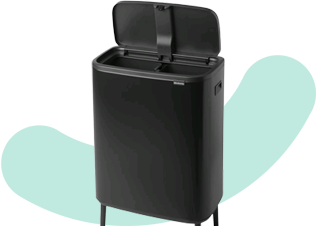 Living
Touch bin hi
€5.99 per month
Unlimited use
2 x 30L capacity
Recycled material