Sustainable choice
Homie premium washer
Sustainable choice
Homie premium washer
Your product

This is the product that you have selected.
Choose the duration

Choose from a subscription for 6+ months or 3+ years. After the minimum duration, the subscription is automatically renewed for an indefinite period. You can then cancel with one month cancellation period.
Monthly fee

Fixed monthly price: you pay a fixed amount per month. You can make unlimited use of the product.

Pay-Per-Use: you pay per wash or drying cycle. Applies to the 6+ month subscription in washing and drying. Within the minimum monthly washing credit you can run a X number of cycles. With this subscription you wash more sustainable and you have insights in consumption with the Homie app.
Extra's

These extra's regard a one-time purchase.
About the product
The premium washing machine with A energy label is the most economical washing machine at the moment. It has a drum size of 8kg. With energy label A you will save up to €270,- on energy costs (calculated based on the lifecycle of the appliance).  A smart washer for effortless energy-efficient washing. You choose this product when you wish to have an energy-efficient washing machine with extra features, or when you are a larger household.
A energy label, the average price of a washing machine with A energy label is around €599,-
8kg drum size, 1400 rpm
Adjust cycle time with 'extra rinse' and 'speed wash' function
SpaCare steam function
Addwash function: add forgotten laundry during the cycle.
Very quiet
In combination with a dryer, a "stacking kit" is recommended!
Specifications
| | |
| --- | --- |
| Energy label | A |
| Drum size | 8KG |
| Revolutions per minute | 1400 rpm |
| Dimensions (HxWxD) | 850 x 595 x 470 mm |
Your Homie
Per month

This is what you pay monthly.
Pay once

This is what you pay one-time (accessory or product).
Deposit

This is the deposit. You receive this deposit back after cancellation of the subscription when we have collected the appliance.
Related products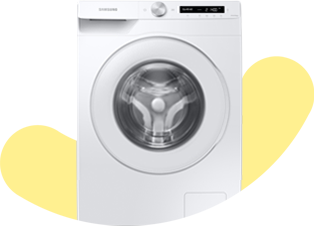 Sustainable choice
Washing
Premium washer 9KG
From € 13.99 per month
Unlimited use
Washing machine 9KG
A energy label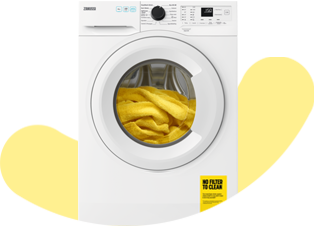 Washing
Standard washer
From €9.99 per month
Pay-Per-Use or unlimited use
Washing machine 7KG
AutoAdjust: optimal water and energy consumption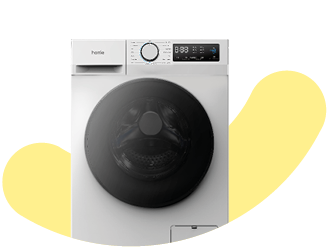 Sustainable choice
Washing
Homie standard washer
From €11,99 per month
Unlimited use
Washing machine 7KG
B energy label